Feedback from our Customers:
The BugZ OFF spray is awesome!! I noticed an immediate relief on my horse. No more stomping and being agitated! I was even able to use it on my mini was has typically a "no way" fellow. I hated using store fly spray on them and the smell was horrible and hated knowing I had to put chemicals on them. This stuff has no harsh chemicals and really doesn't have an odor. I highly recommend this product!! Have also used other products from ER Equine and have had wonderful success with it!! Bug season is among us....don't delay in getting some. You won't be sorry!!!

Kim Hunt Barnwell, Harrisburg, NE



---
Really a believer in this product! I usually am skeptical about new products, but ER really works!  My Husband is a welder and has had a chemical burn on his chest for over 12 years and nothing would heal it.  He has been using ER for only 2 weeks and it has almost healed all the way! Thank you ER for making such a great product! !!!


Cassy Lane Lee, Hoboken, GA



---

Had a mare rub on a tree and gash her neck very badly. After receiving the ointment she healed in one week and no scars. Her hair also grew back. Thank you er remedy!
:)
Give these products a try you won't be disappointed.
Chrystie Benoit Read, Anderson, SC

---

My gelding was getting whelped up from bites, but since ordering and spraying him down with Bug Off no new bites or whelps!
That makes this horse momma very happy.
Candy Parker, Ludowici, GA

---
I LOVE this product! It quickly cured my gelding's rainrot, and made short work of my mare's abscessed punctured hoof.
I'm telling everyone I know about this product!


Lauren R Hill, Carthage, MO
---
My dog got a nasty cut from some barbed wire and this stuff worked amazingly on it.
You could see a difference from day to day after using.
Marsha Dozier Shook, Washington, GA

---
My friend bought some of your products and she shared some of them with my horse!
It helped Kings fungus and results were fast! It was perfect i will most likely buy them myself!


Kaylee Nicole Cortez, Booker, TX
---
This is a Wonderful Product! 
I can't run a Stable without it! It has so many uses!


Alan Buck Martin, Benton, IL
---
Amazing product and will never be without it!!!
Lori Woodham Dawkins, Midland City, AL

---
So I started with the paste on my mare that always gets eaten by her best friend in the pasture. I seriously saw hair growing back in a day! We also have a flea problem with the dogs during the summer. I haven't had to dip them as much since I have been puttin the paste on them! Then I finally got my hands on the bug spray and holy cow! We live in a swampy arena. So, horse flies, yellow flies, gnats, & flies are a problem. I can spray my horses and I don't have any problems with any of the bugs for hours! I even use it on my dogs! I absolutely LOVE my ER & have gotten a lot of people using it. I won't have another product in my barn!! Btw we need a gallon jug of the bug spray keep doing what you're doing!


Ashley Miller, Brunswick, GA
---
I just received my spray and it works AWESOME! It works on flies and the gnats on the horses! It also worked just as well on all my dogs. I recommend this product to everyone! 100% satisfied and I have tried a lot of fly sprays!


Shelley Humphreys, Colquit, GA
---
Batman
Batman came in on February 22, 2016 and had been attacked by a dog. He had a puncture wound to his cheek, and legs in several places. I addition his eyelid was ripped in half and his eye was scratched. He was body clipped and wounds treated daily with ER. Er was applied safely to his eyelid(some did get in his eye daily with no issues). First pictures were taken on February 22nd 2016, last two pictures on March 7th 2016 ONLY 2 WEEKS healing time! Regular ER ointment Applied to his wounds. No additional antibiotics given. Owner Heather Gavitt / Equine Remedy Rescue Donkey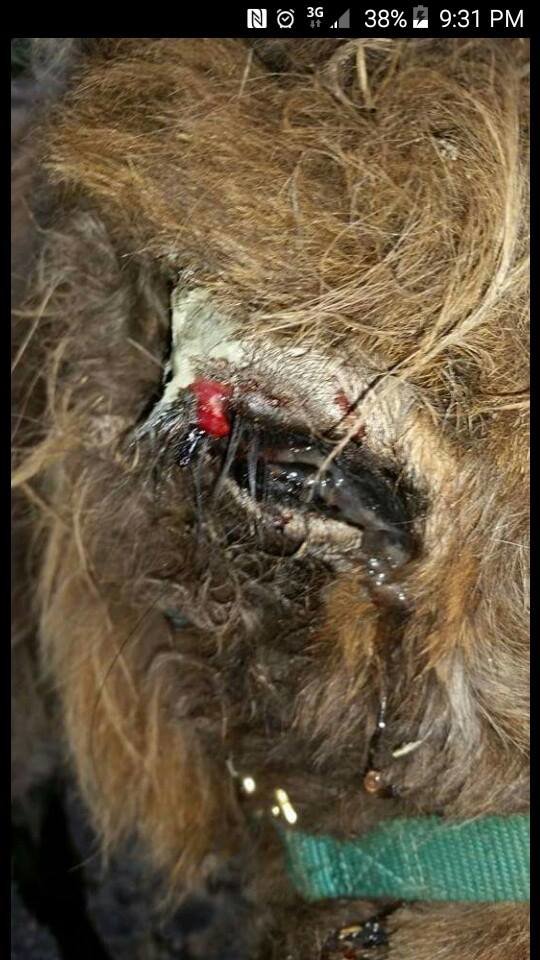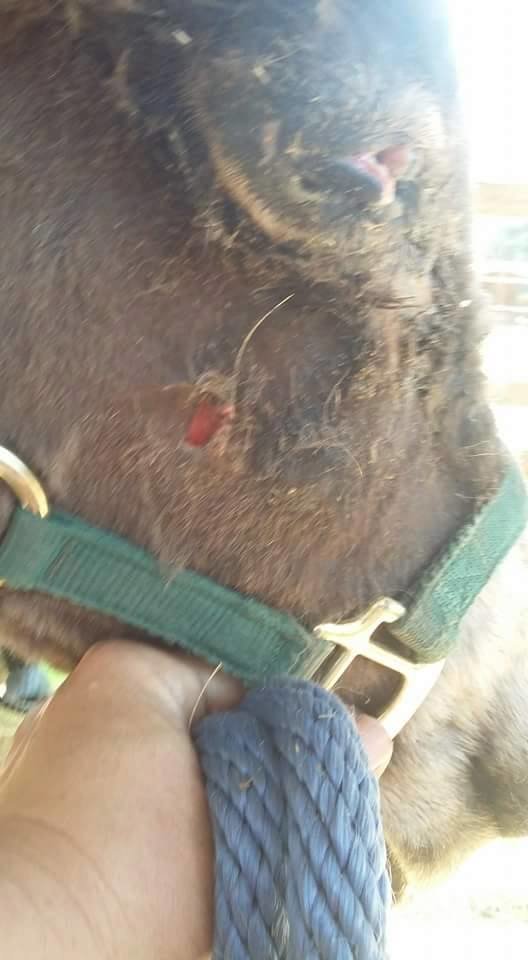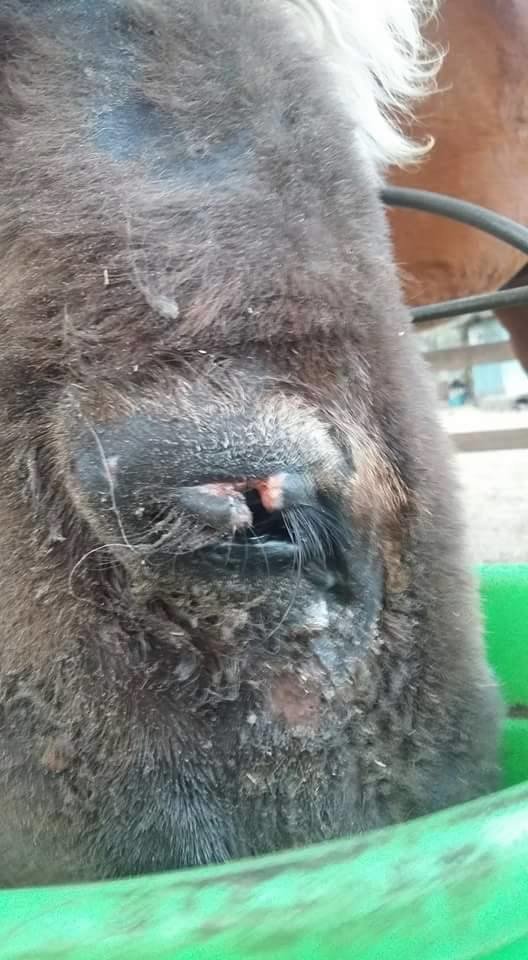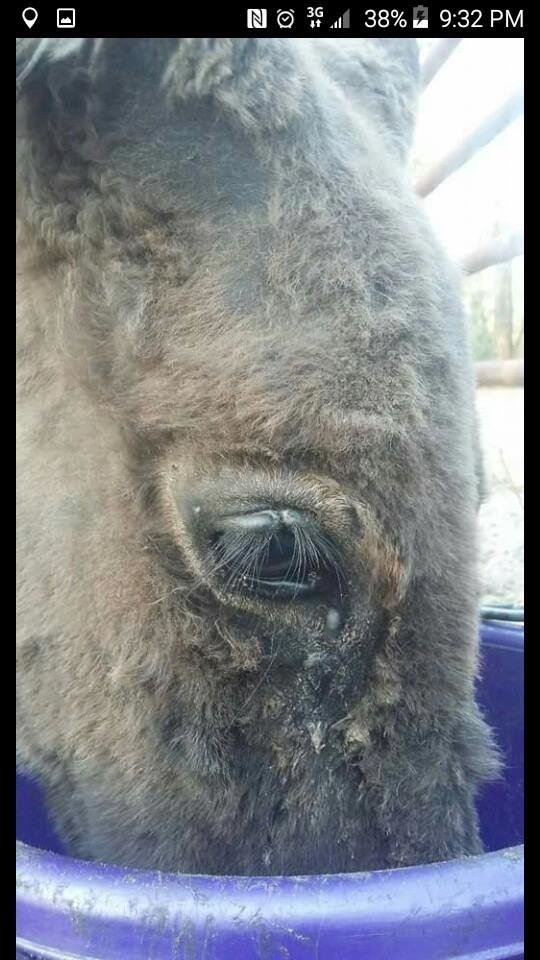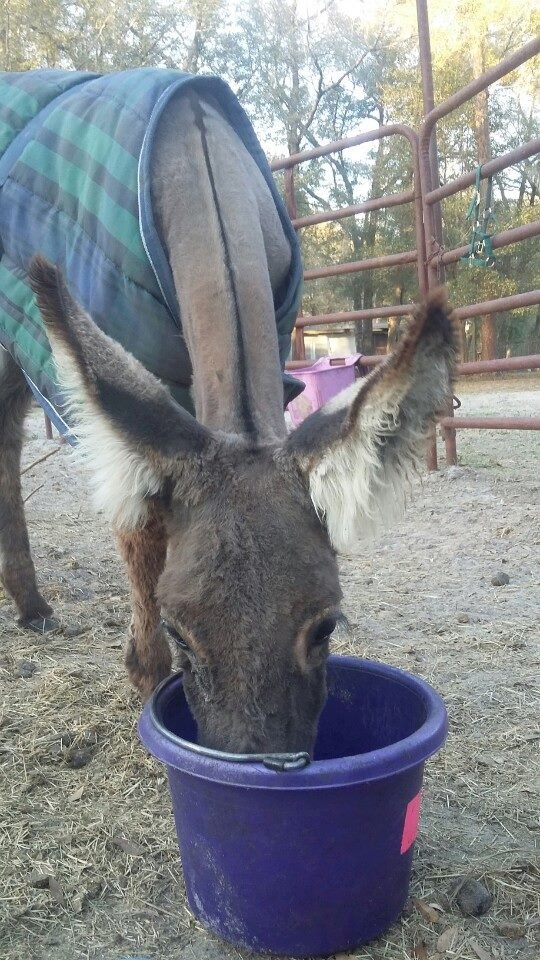 ---

Champ
Found at the Brantley County Jail on Saturday 4-16-2016
Started treatment same day of arrival. Very infected face, puss coming from several areas. Eye infections in both eyes, but great spirits and good appetite. Treated with ivomec daily per the vet, almost killed him. applied ER to face and body daily as a rub and stopped other treatments. Last picture was taken 6-10-2016 just under 2 months. Er ointment and liquid applied to Champs skin.


Owner Heather Gavitt /  Amanda Stone of Hortense, GA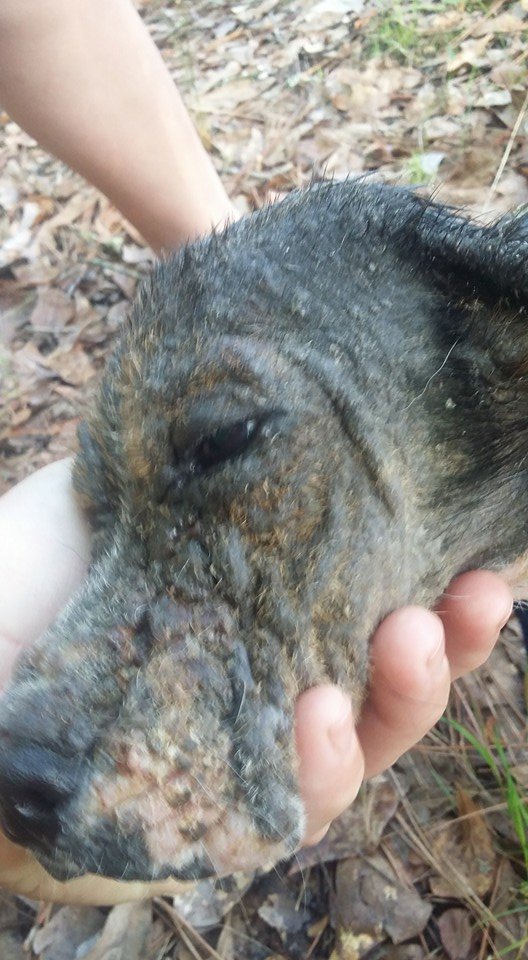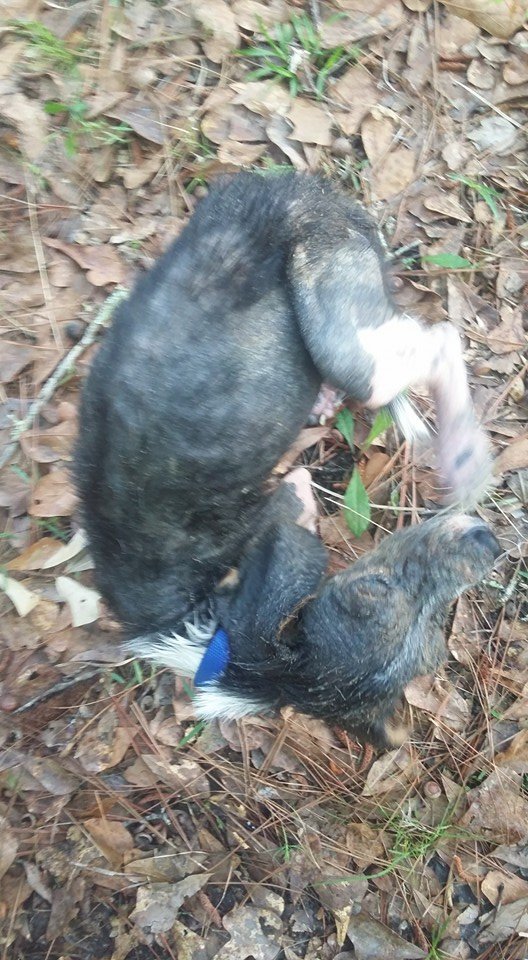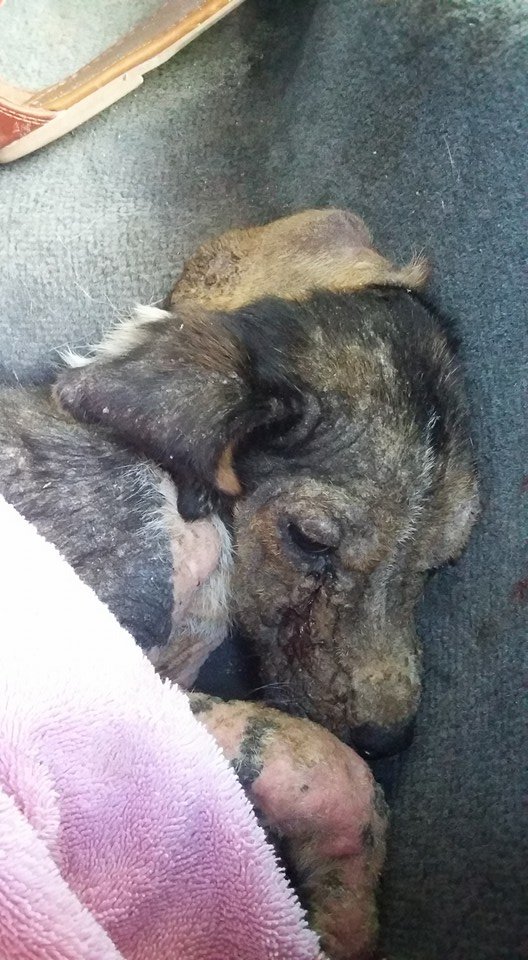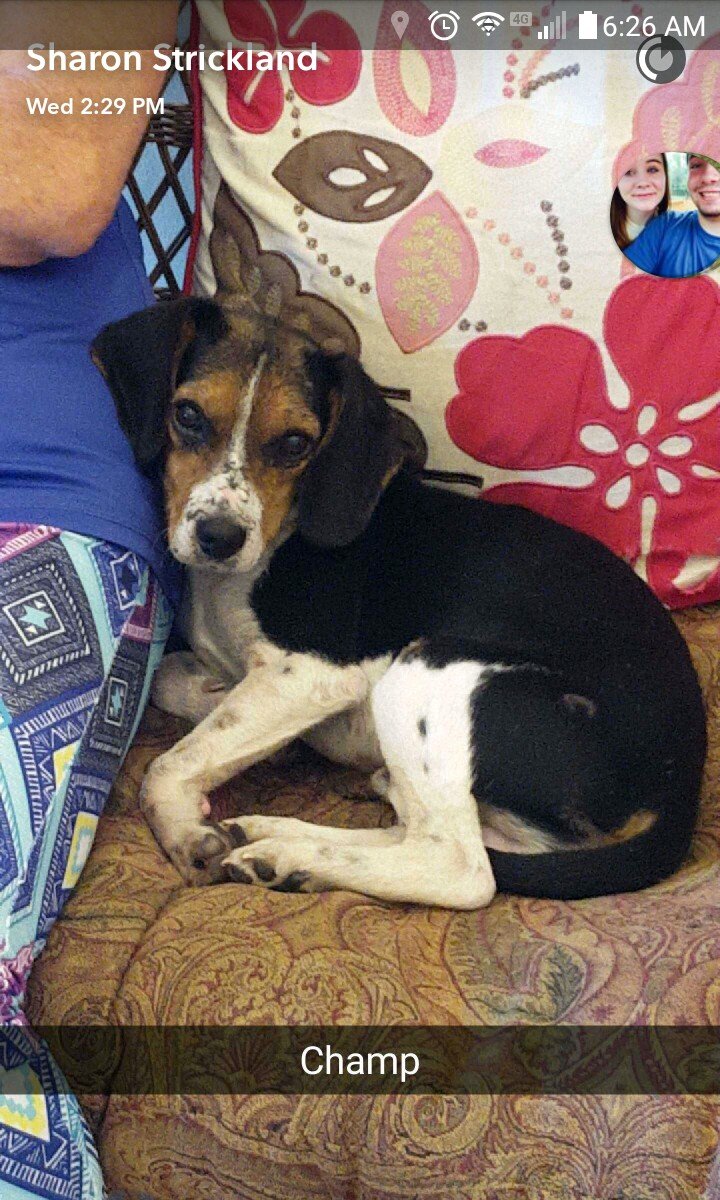 ---
Derrick's Gelding
One week applying Liquid ER to his rain rot three times.


Derrick Dension, Alma GA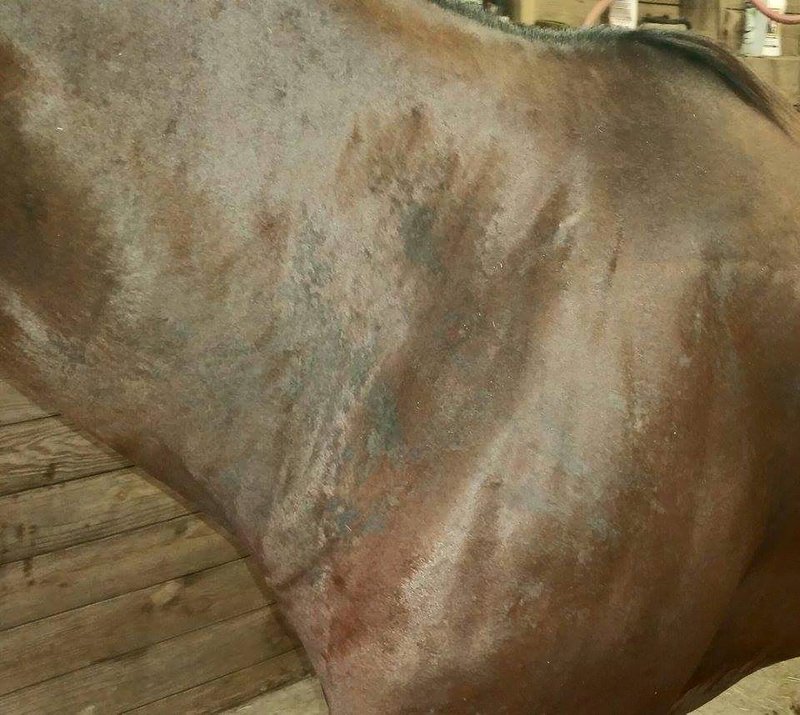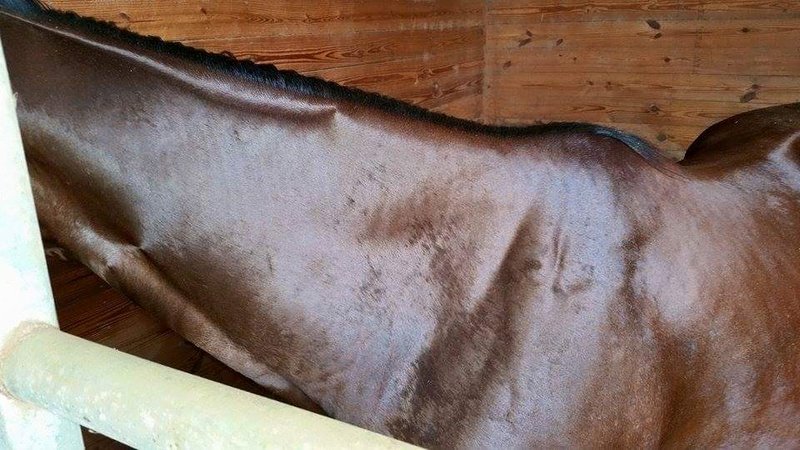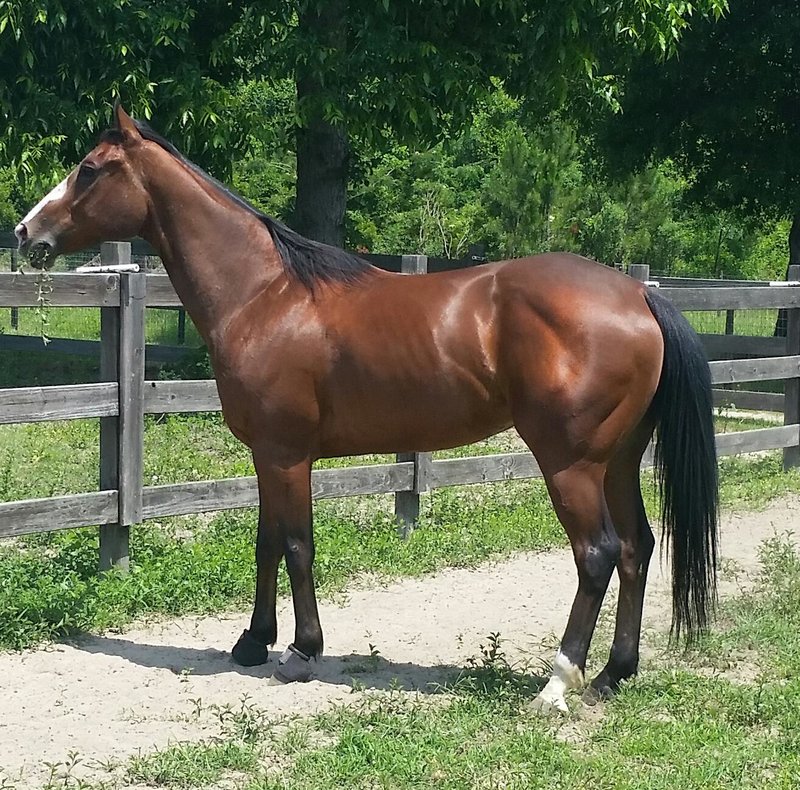 ---
We have two horses that live next to a creek. Horse flies and yellow files are awful during the summer especially in the late afternoon. I had been reading and looking at the ER fly spray but I was a Doubting Thomas because the flies are so bad. But I bought some a week ago just to try. First of all neither horse had ever been sprayed and one is Filly that just turned 2 this month and has not been broken yet. I expected to have to fight them to spray them but it will spr
ay a very fine mist and neither one was bothered by it. Amazingly time you spray them the majority of the flies are gone! The horses are no longer swishing and kicking fighting off flies! Thanks for a great product ER you have made a believer out of me! If you have horses or any kind of animal as far as that goes and you have problems with flies you need to get this product! 


#happycustomer Rhonda Thompson, Alma, GA




---
I've Got To Give "Credit" where "Credit" is Due! This ER ShadeMax has Definitely made me a FIRM BELIEVER! My gelding had a surface wound for over a month & the flies (by the Dozens) would NOT leave it alone no matter what medication I'd apply to it! With only "3" applications of ER ShadeMax... Not only did the wound heal up nice & clean... But Not a Single Fly would go near him!
Thank you All for ER products & I can promise you I'll ALWAYS have it on and at our barn!


Cathy Kelly, Waynesville, GA
---
I run a program with 12 geldings in north Florida. Currently I have 4 horses that deal have skin allergies. Upon starting these products only a week ago, I have noticed a significant reduction in itching and tail rubbing. I use both the cream and the spray both of which really detour the irritation from noseeums. I also purchased the fly spray which is working really well and the smell is so much better than my usual spray.
The customer service with my transaction was perfect.


Keli Wakeley, Salvation army Camp Keystone, Starke, FL
---
Courtney Herman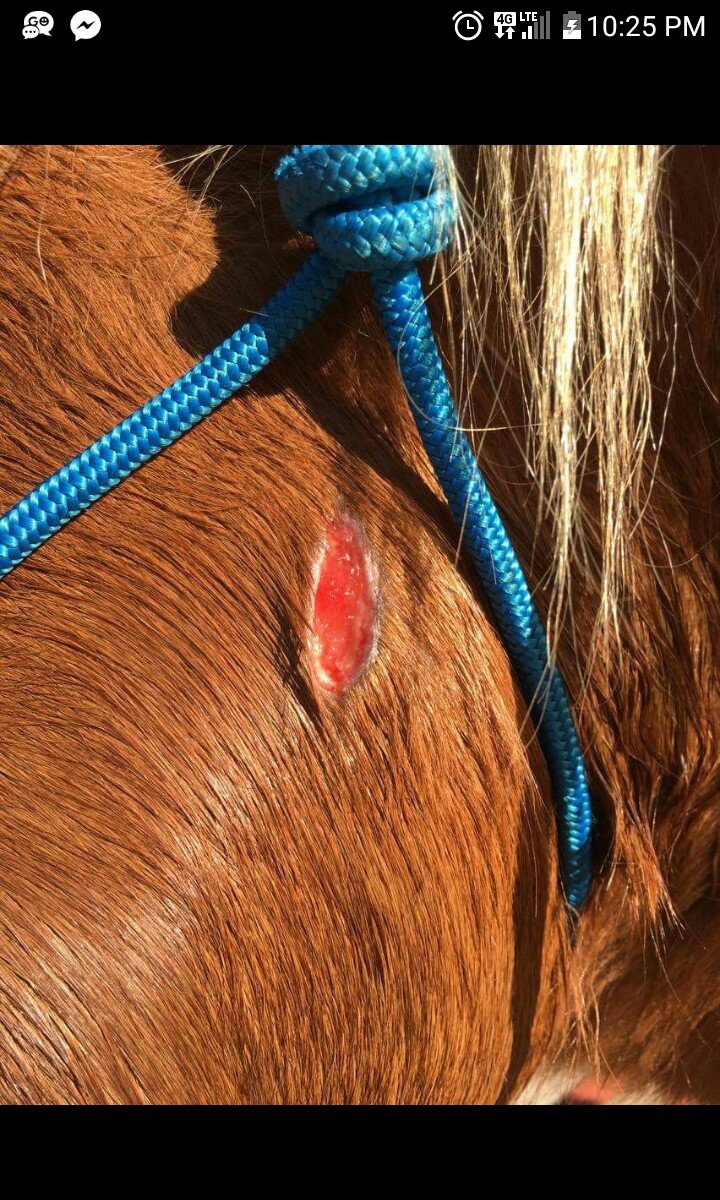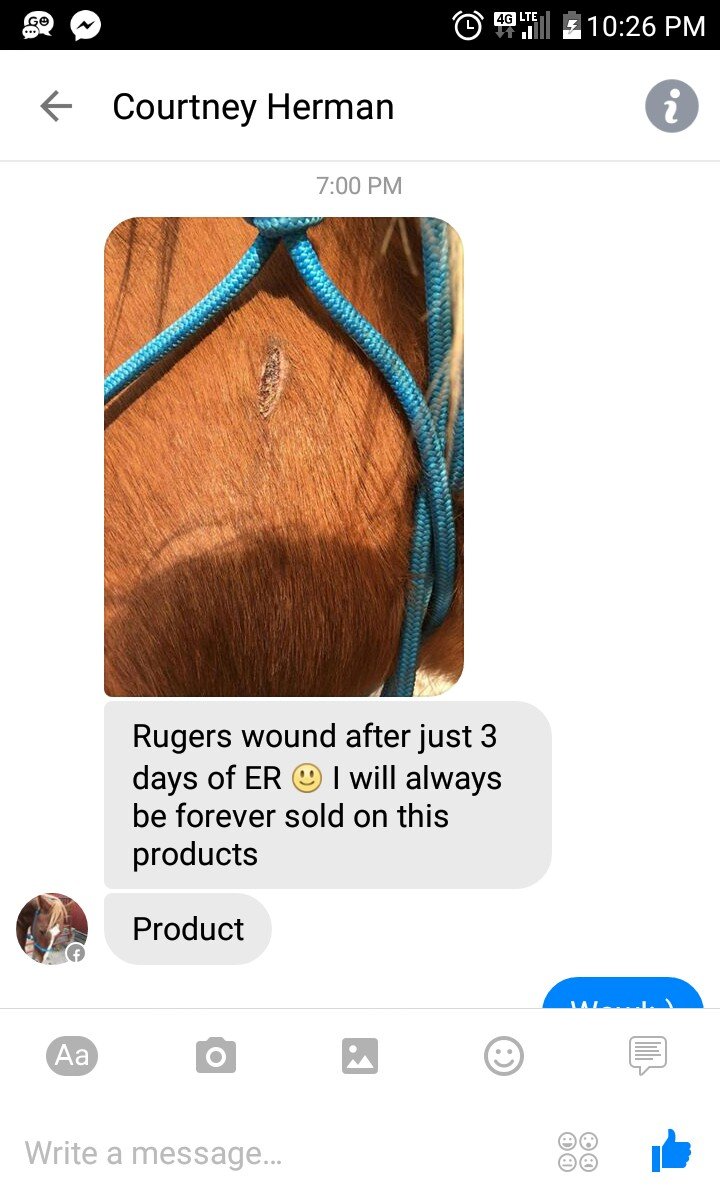 ---
We sprayed the horses yesterday morning before the farrier came and when we brought them in last night, they weren't bothered by flies or mosquitoes. It lasted all day with 1 application! Amazing fly spray.


Jackie Herman, Carson, IA
---
I have been using ER salve for around 3 years on every pet I own and myself. It's probably one of the most versatile things I've ever used anything from my husband's eczema (he went from extremely uncomfortable almost bleeding cracked skin within two applications it was at a minimal of being noticed zero itching or discomfort!!) to large lacerations that could've used stitches on my equine babies it healed so beautiful and fast within 1 month. The latest ER has came to save was a baby chick with a prolapsed rectum it not only shrunk half the size over night the other bitties did not pick at it. It took approximately a week to fully heal but it did completely!!
I could go on and on I recommend any of these products to anyone for anything!!


Lindsey Lee, Hortense, GA
---
In the midst of the magic healing of the horses hooves, ER has healed a huge barbed wire gash on my hand.... I am a VERY happy customer!

Krista Lynn, Magnolia, AK
---
We run a horse rescue so we have every manner of problem coming through.
ER Equine Remedy has been one of only two products we use. It heals everything we've used it on, FAST!


Andrea Doolittle, Gum Branch, GA
---
My mom ordered from this page, it help her gelding heal very fast! He had to get stitches in his back leg,
and by using ER he healed perfectly no scar left or anything!


Stacia Jarvis, Mannington, WV
---
LOVE this product. Not only do I use it on my animals but I use it on my clients animals as well!!! Highly recommend!!!!


Heidi Bach, Kennewick, WA



---
I love this product !!
2 of my horses had severe injures and I used ER ONLY ONCE a day, and you just need a little bit of it......that stuff really works in all direction..... I used it also on little cuts on my hand, on a horse with a itch problem on his tail. I can highly recommend this product.
Awesome product for a great price.
Sandra Wiliamson, Vidalia, GA

---
We have 10 horses and ER is by far the best stuff I have used on their wounds. It not only heals broken skin areas, it heals the itch and softens the skin too. I've even used it on cracked hoofs and it works great! I never let myself run out of it! Love, love, love ER!!
Sandra Scarborough, Waycross, GA

---
This is GREAT STUFF!! I have used ER on my dogs, kids, and hubby. Almost makes me want to get a horse so I can use it on it too.
Deborah DeRosa, Madison, NJ

---
I've been using ER from the very beginning when Heather dipped me up some in a cap and Ziploc bag. It's great stuff!! We've used on horses, goats, cows, pigs, dogs and ourselves. We used it on our horse Bailey for a cut with stitches in a week or so it was basically healed and she has NO SCAR to this day. You can't go wrong with ER!! Getcha Some!!
Debbie Jones, Jesup, GA

---
Amazing results in little to no time. Natural products that really work!
Heather Thompson, Fernandina Beach, FL

---
When nothing else worked, this magic potion did the trick. We used it on an open wound and within the first week results were amazing. I keep a small amount in each vehicle because you never know when you'll need it.
Brent Whitaker, Waycross, GA

---
THIS STUFF IS AWESOME EVEN USING ON DOGS, I USED IT ON MINE THAT HAD DEMODEX MANGE AND IT KILLED THE MITES, THIS IS SOME WONDERFUL STUFF, AND HAVE ALSO USED IT ON MY HORSES, CANT SAY ENOUGH GOOD THINGS ABOUT IT.. OH AND YOU WILL LOVE THE SMELL AS WELL FOR IT DOES NOT SMELL LIKE MEDICINE


Amanda Stone, Hortense, GA
---
Worked awesome on my colt. He sliced the front of his leg open. Healed quickly!!!


Amanda Hume, Hortense, GA
---
Works great on rain rot and other fungal skin irritations !!!!


Derrick Denison, Alma, GA
---
I use this on my horses, dogs and have even used it on my kids. Great stuff! It even heals rain rot and protects the horses from sun burns.
I will never use anything else.


Shannon Phillips, Ashburn, GA
---
Ok I said if I felt this product was worth the money, so far it is. I am 4 days into the use of the ER fly spray. I have an Appie who has several allergies, wears a sheet, neck wrap, and fly mask 24/7. I started using this on this past Tuesday. His hives are significantly decreased, bug bites on his legs...the old ones are healing and no new ones. His neck and face hives are healing. No new welts at all.
My Oldenburg has rubbed his chest raw with other products. I have used vetrycin to heal it and it just happens again. I have used ER fly spray on him since Tue and no vetrycin. He has new hair coming in. I have to say I'm happy with this product.
Cyndie Pittman, Washington, NC